Noteflight now has improved search features across the site, making it even easier to find your scores, public scores, groups, or other members. Also, we have added filtering for opening key signature and instruments to quickly narrow down your choices! Looking for a love song for violin and piano in the key of G? How about a soprano vocalist warm up in Bb? Wondering if there is a Noteflight Group for original compositions? Quickly find what you need with our improved search and filtering.

Read more below and try searching on Noteflight.com.
Just Type a Keyword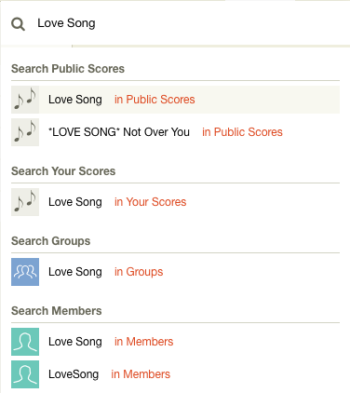 Begin by typing any word in the search field, and as you type Noteflight will provide search prompts in each of four locations: Your Scores, Public Scores, Groups, or Members. The order of the search locations always starts with the page you are on, so if you are in Noteflight Groups then the first results will be for Groups, and so on. You will see the results populate in real time as you type, and once you find the search option you want simply click that term to go to your search results page.

We made this as simple and intuitive as possible!
Filter Results or Public Scores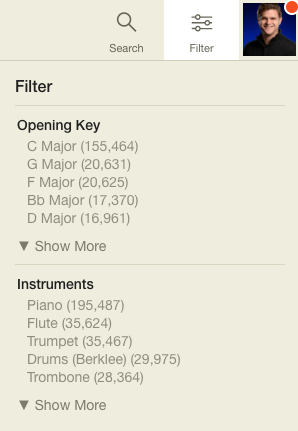 After selecting a search option for scores, you can further filter results by instrument and opening key signature. Or, you can begin by filtering all public scores to find pieces with the instrumentation or key signature you would like.

All search terms and filters are also reflected in the URL, so you can easily copy the web address and share your search results with someone else by sending them the link.

We hope you enjoy searching for and creating great music with Noteflight!