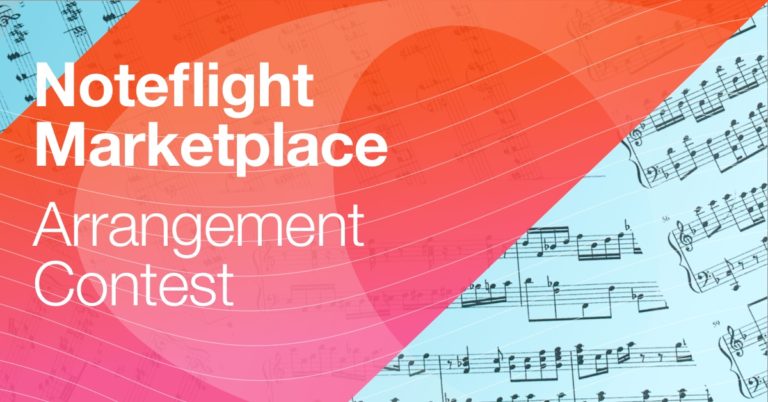 We are excited to announce our first Noteflight Marketplace arrangement contest! Arrange any copyrighted work in the Noteflight Marketplace Arrangeable Song Catalog for a chance to win one of our four prize packages. Read all the rules below and submit your arrangement(s) to the contest!
Contest Rules
Eligibility: You must be a Noteflight Premium member, 18 years or older, in the US in order to sell scores on Noteflight Marketplace and enter the contest. If you are currently a Noteflight Basic member, you can easily upgrade your plan to participate.
Read more about selling on Noteflight Marketplace.
Copyrighted Arrangement Content: Arrange any allowed copyrighted work in the Noteflight Marketplace Arrangeable Song Catalog. Your arrangement can be any length and for any ensemble up to 20 authorized performers.
Note: Large ensemble arrangements of copyrighted works are not permitted on Noteflight Marketplace at this time. This includes orchestra, concert band, and marching bands with 21 or more performers.
Audio Recording: Audio recording is not required but you may sync your arrangement with YouTube or Soundcloud using Noteflight Premium's media sync feature.
Categories and Judging: Winners will be selected in four categories: Most revenue, most favorites, most social engagement, and Noteflight team favorite. Your contest entry will be featured on Noteflight Marketplace and promoted to help engage people to favorite and buy your arrangement. You are encouraged to promote your works on social media using #NoteflightMarketplace and we will measure your engagement.
Arrangers can submit up to 3 arrangements to the contest; however, you may only win in one category for one work. We will choose winners in the following order: Most revenue, most favorites, most social engagement, then Noteflight team favorite. Once your work has won a category, it will be taken out of consideration for subsequent categories.
Timeline: The contest runs through 11:59 pm ET on July 31, 2019. Entries are accepted up until the end of the contest but the earlier you submit the more time you have to earn revenue, gain favorites, and promote your work. Revenue and favorites will be counted once your arrangement is submitted.
Prizes: The winner in each category will receive this amazing prize package worth $750!
Here is what you get:
Noteflight Premium for 5 years
Bragging Rights Forever!
Thank you to PreSonus Audio and Samson Technologies for sponsoring our contest!
How To Enter:
Step 1: Complete your arrangement in Noteflight and place it for sale on Noteflight Marketplace.
Step 2: Fill out and submit the form below and include a link to your score for sale. If submitting more than one work please complete one form for each entry.
Step 3: Promote your arrangement on social media using #NoteflightMarketplace, and tag Noteflight in your post:
Facebook and Twitter: @Noteflight
Instagram: @noteflight_music
Step 4: Tell everyone you know to purchase, favorite, and promote your arrangement!
Arrangement Contest Entry Form