Noteflight now allows members to tag the music genre and difficulty level of their publicly shared scores. Looking for an intermediate rock song? How about a beginning classical piece? You can now search and filter by music genre and difficulty level to easily find that perfect piece. Also, want to know how many people are commenting on and adding your piece to their favorites? Premium members now have the ability to keep track of their favorites and comments thanks to the addition of our score dashboard!
Music Genre and Difficulty Level Tagging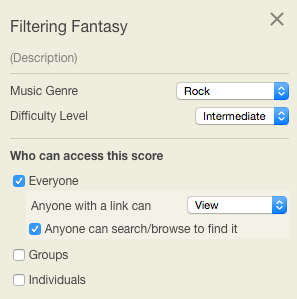 To add music genre or difficulty level tags to your score, open 'Score Details' at the top right of the page and you will see the new options for music genre and difficulty level appear in the right hand slider. Next, select the appropriate tags for your score, click save and you are all set! After selecting the option to allow anyone to 'search/browse to find' your score, other members searching in the score library can now filter by the tags you selected for your score. This makes it much easier to find that intermediate rock piece based on genre or difficulty level.
Premium Score Dashboard
Our new score dashboard provides a central location where premium members can monitor social activity across all of their scores. Here, members can see metrics and graphs displaying Top Views, Top Comments, Top Favorites, Total Views, Total Comments, and Total Favorites across all of their scores. These metrics can all be filtered by Time Period to display data for the past 30 days, 3 months, 6 months, or 1 year. Now you can easily monitor all of the praise that our community gives to your deserving public scores!