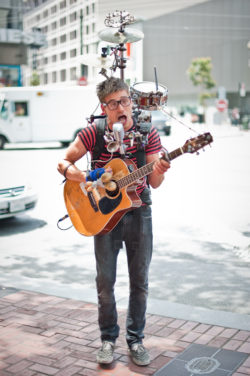 We are pleased to announce the winners of our One Man Band Contest! For this contest, we invited composers to participate by writing or arranging a duet or trio and recording themselves playing each part using Noteflight's Live Audio Recording feature. The voting was in the hands of the Noteflight community where members voted for the winning scores inside the One Man Band Group by favoriting their top choices. Each of the winners received 5 years of Noteflight Premium.
Contest Winners
Double Vision Winner – 2 staves using the same instrument

Marigold, by Regan Zieber (The Famous American Philosopher)
Bio: Regan K. Zieber, typically known as "The Famous American Philosopher" on Noteflight, is 16 years old and has been composing music since the beginning of 2016; although he has been interested in music for much longer. Regan has been playing piano for 11 years, and picked up the cello 2 years ago. Composing is a big part of his life, and he plans on pursuing music as a career.

Duet All Yourself Winner – 2 staves using 2 different instruments

Duet for Clarinet and Flute, by Kristian Bøkseth (Music Explorer)
Bio: Kristian Bøkseth comes from a small town in Norway called Buvika. He started playing clarinet in the school band and has now done so for 10 years. Kristian studied music in secondary school and there, he really discovered his interest for music. Also in school, he started composing and had to choose a secondary instrument to study. Kristian chose flute and has continued to study the flute since. Although Kristian is fairly new to composition, he is always striving to become better and when composing he is constantly trying to learn something interesting while experimenting with different moods. 

Triplets Winner – 3 staves using the same instrument

Tracks in the Sand, by Finn Moore (Saharo)
Bio: Finn Moore is an enthusiastic player in the musical game. He has practiced the violin for 12 of the 17 years of his life, but has only begun composing this past year. He participates in his school orchestra, coaches younger players, and plays in other chamber ensembles throughout the year. Finn is inspired by the works of Tchaikovsky, Shostakovich, and Holst. In addition, he also admires Joe Hisaishi and Aaron Isibashi, a Noteflight member and accomplished strings player. Finn is honored to win this competition, and thanks everyone who favorited his score so that it could be featured among these other wonderful pieces!

The Triple Crown Winner – 3 staves using 3 different instruments

Love Tester, by Patrick Haesler (Patrick Haesler)
Bio: Patrick Haesler is a multi-instrumentalist composer, performer, and recording artist from Canberra, Australia, and is currently studying composition at the ANU. Patrick performs a variety of styles (primarily jazz) of music in both solo and small and large ensembles. Patrick's original music blends influences from jazz, hip-hop, Latin, and fusion music. Having started his musical journey on trumpet in 2009, Patrick's skills have expanded to bass guitar, keyboard, EWI, composition, teaching, and starting in 2017, recording and publishing original music. Patrick's music is available on Bandcamp, Spotify, iTunes, and other online music marketplaces and streaming services.

Thank you to everyone who participated and please keep composing for Noteflight Contests!