We are so excited to provide SoundCheck™, powered by MatchMySound™, in Noteflight Learn! This proven solution for performance assessment is available for use with any Noteflight Learn score, and provides ratings and feedback for pitch, rhythm, and intonation – which can be used for assessment.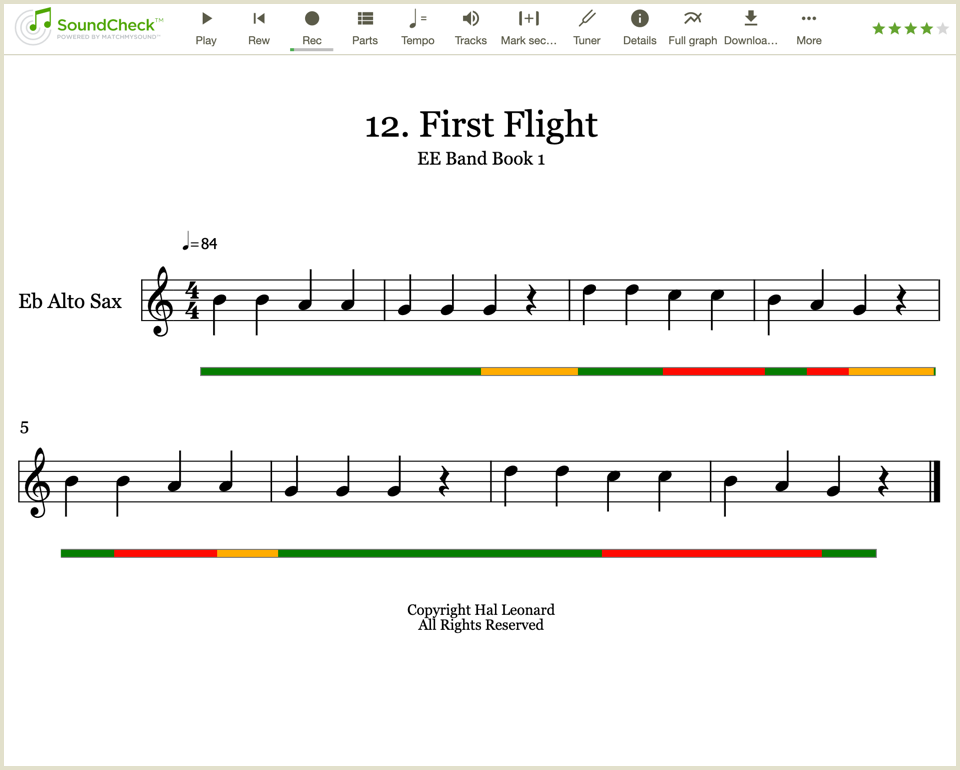 With SoundCheck, all Content Library scores can be used instantly, and any Noteflight score can be converted to SoundCheck scores with just the click of a button. All current Noteflight Learn integrations with Google Classroom and LTI tools such as Canvas, Schoology, Moodle, etc, are supported for creating and turning in SoundCheck assignments, including automatically adding the SoundCheck rating to your LMS grade book.
Feature Highlights
We have added many great features to SoundCheck, such as:
iOS functionality in the Safari browser in versions 13 and higher.
The ability to download recorded audio as an MP3 file.
Non-pitched percussion parts now include a record-only option.
The SoundCheck assessment rating is now automatically added to grade books of your own LMS, including Google Classroom, Canvas, Schoology, Powerschool, Brightspace, Blackboard, Moodle, and more. Students simply need to complete their assignment and use the same "Turn In" button already available in Noteflight Learn.
All Content Library scores include a SoundCheck version that can be used right away. To make other versions, you can always edit a Content Library score and create your own SoundCheck version as well.
SoundCheck note feedback displays in the same key as transposing instruments.
SoundCheck scores can be created from only the parts in view in the Noteflight score, making it easy to create SoundCheck score versions without needing to delete parts in the Noteflight score.
Accounts that purchase SoundCheck and/or Content Libraries for all users include automatic access. For accounts that need to assign SoundCheck or Content Libraries to specific users, the "Manage Add ons" section is simplified for quick access.
The sharing and assignment options are streamlined for both Noteflight and SoundCheck scores. For assignments, simply select "Activity Template" right away.
SoundCheck only works with through-composed scores, so, creating a SoundCheck score will automatically unroll repeats from the Noteflight score. Noteflight also offers an "Unroll Repeats" feature in the Repeat menu so you can unroll and make any edits before creating a SoundCheck score.
The Noteflight score used to create the SoundCheck score is linked at the top of the Score Details panel for easy access.
New Features Coming Soon
We are working on several new features to be made available ASAP, including:
Essential Elements band and strings methods are being added and will be available to anyone with an EE Book code.
Additional content for Band and Choral libraries will be added.
SoundCheck will be made available as an add on to Noteflight Premium subscriptions.
Purchases in Noteflight Marketplace will become available to be assigned to individual users, further expanding the availability of published content that can be used with Noteflight and SoundCheck.
Several other features we cannot announce yet 😉
We are continuing to add and expand SoundCheck functionality over the course of the next few months so stay tuned for more!
Quoting Noteflight Learn with SoundCheck
SoundCheck can be added to any Noteflight Learn subscription for $3 per user, per year. Current customers can add SoundCheck right away for a prorated price based on your renewal date. Noteflight Learn is currently $2 per user, per year. With the addition of Content Libraries ($3 per user) and SoundCheck ($3 per user), teachers and students can now access music notation, Hal Leonard content, and performance assessment for a total of $8 per user, per year! You can quote or purchase right away and you may always contact us anytime with questions.
Quote or Buy Noteflight Learn & SoundCheck
We will continue to update this blog as we work on implementing these and other exciting new features. Don't forget to sign up for email updates and we look forward to rolling out these continuous improvements to support you!