We are so excited to announce our partnership with MatchMySound™ technology to bring SoundCheck™ to Noteflight! This proven solution for performance assessment will be available for use with any Noteflight score, and provide ratings and feedback for pitch, rhythm, and intonation – which can be used for assessment.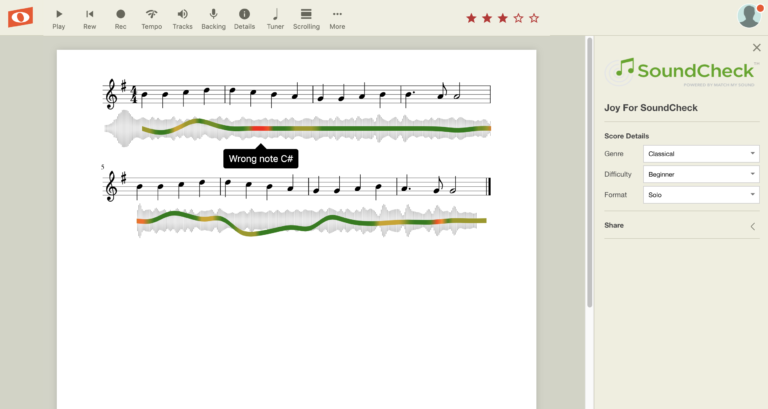 All Noteflight scores will be available in SoundCheck with just the click of a button. All current Noteflight Learn integrations with Google Classroom and LTI tools such as Canvas, Schoology, Moodle, etc, will still be supported for creating and turning in SoundCheck assignments. We are actively integrating this feature now and are committed to having the first version available for use in June.
Sign up to follow our updates!
Noteflight has continued to improve over the years to bring professional quality online music notation to musicians of all ages. In 2016 we announced Noteflight Learn and have since added Hal Leonard Content Libraries, Google Classroom integration, and performance features such as audio recording to help support music learning. In 2018 we launched Noteflight Marketplace to allow you to purchase and sell music all as Noteflight notation files that can easily be adapted for your needs. The addition of SoundCheck, powered by MatchMySound, begins a new era for Noteflight in supporting both the creation and learning of music, and ties all Noteflight solutions together to provide an unparalleled single platform for music in the digital age. We are now the only website that allows you to create, share, record, purchase, sell, and learn to play music. And as a Hal Leonard company, we will continue to expand the available music for use with Noteflight and SoundCheck. Plus, all content in Noteflight can always be adapted and edited for your needs, including for use with SoundCheck!
New Feature Timeline
We are working on several new features to be made available ASAP. In the coming months, here is what you will see:
SoundCheck will be available as an add on to Noteflight Learn for $3 per user, per year.
All six Noteflight Learn Content Libraries will be made available for $3 per user, per year. Existing customers with content libraries will automatically be expanded when this is available.
We are working on several improvements to make Noteflight Learn easier to use, including: Managing members and add ons, using groups, sharing scores for assignments, and adding SoundCheck and Content Libraries.
Purchases in Noteflight Marketplace will become available to be assigned to individual users, further expanding the availability of published content that can be used with Noteflight and SoundCheck.
SoundCheck will be made available as an add on to Noteflight Premium subscriptions.
Quoting Noteflight Learn with SoundCheck
Noteflight Learn is currently $2 per user, so the addition of Content Libraries ($3 per user) and SoundCheck ($3 per user) means for $8 per user, per year, teachers and students can access music notation, Hal Leonard content, and performance assessment! Teachers can receive a preliminary quote right away and you may contact us anytime with questions.
Quote Noteflight Learn and SoundCheck
We will continue to update this blog as we work on implementing these and other exciting new features. Don't forget to sign up for email updates and we look forward to rolling out these continuous improvements to support you!