Noteflight and Berklee College of Music partnered to provide a free online masterclass for songwriting! Hosted by Associate Professor Melissa Ferrick, this 1-hour presentation provided valuable information on songwriting for both beginners and professionals.
Berklee Songwriting Online Masterclass Recording
Presenter Bio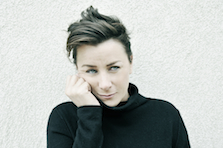 Ms. Ferrick is currently an Associate Professor at Berklee College of Music, the Artistic Director of the Performing Songwriter Division for Berklee's Five Week Program, and is attending Harvard University in the fall of 2017 to obtain her M.Ed.
Signed to Atlantic Records in 1992 at the age of 21, after opening up for Morrissey in the US and UK, she released her debut and sophomore albums on Atlantic before moving on to Independent label W.A.R. Records between 1996-1999. In 2000 Ms. Ferrick launched her nationally distributed independent record label Right On Records; her publishing catalog is represented worldwide by Raleigh Music Group. Melissa has released 17 albums over the last 24 years.
Her songs have been placed in major and independent films and TV including the upcoming web series "Different for Girls," HBO, Sears, ABC, and TBS. She has toured with many artists over the years, some of whom include; Morrissey, Joan Armatrading, Weezer, Tegan and Sara, Paul Westerberg, John Hiatt, G-Love Special Sauce, Ani DiFranco, k.d. Lang, Suzanne Vega, Shawn Colvin, and Anais Mitchell. Melissa has won numerous awards for her work as well as being named one of the top 100 most influential queer activists in the world by OUT magazine in 2013.
Melissa Ferrick is regarded as one of the most prolific, hardworking, honest writers and performers active in the Singer/Songwriter world today.
Tags: featured