Frettable now gives subscribers the opportunity to play their instrument into its online AI and instantly open the score right in Noteflight. This makes it even easier to take music you are working on in Frettable and get it into music notation. There are many advantages, including:
Easily getting your musical idea into notation by playing it in Frettable and opening in Noteflight
Changing the key and formatting music
Arranging music for you or your ensemble
Adding your audio recording to the Noteflight score so other musicians can easily learn the music
Frettable transcribes 40 different instruments including guitar, piano, vocals, brass, and woodwinds. Frettable supports audio recordings of single instruments and is truly polyphonic, transcribing both notes and chords.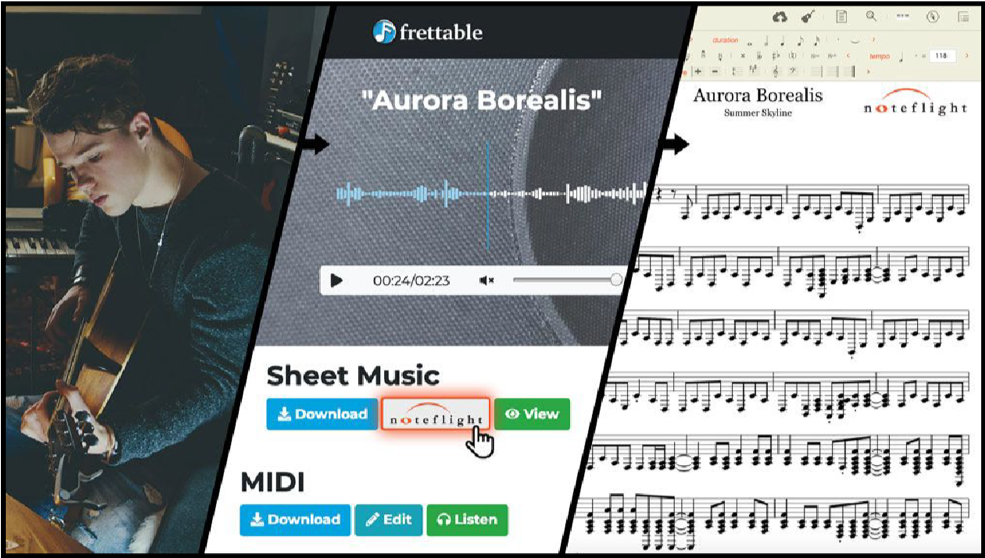 Start a free 7-day Frettable Studio trial and upload an existing audio file on your computer to the Frettable website for transcription or record live using the Frettable mobile app available on the Apple App Store or Google Play. Click the Noteflight button on the Frettable transcription's web page to view and edit the score in Noteflight. Plus, use offer code NOTEFLIGHT for 15% off a Frettable Studio Annual Plan!
Enjoy writing music with both Noteflight and Frettable!
Tags: featured, Frettable, music notation, music technology, Noteflight