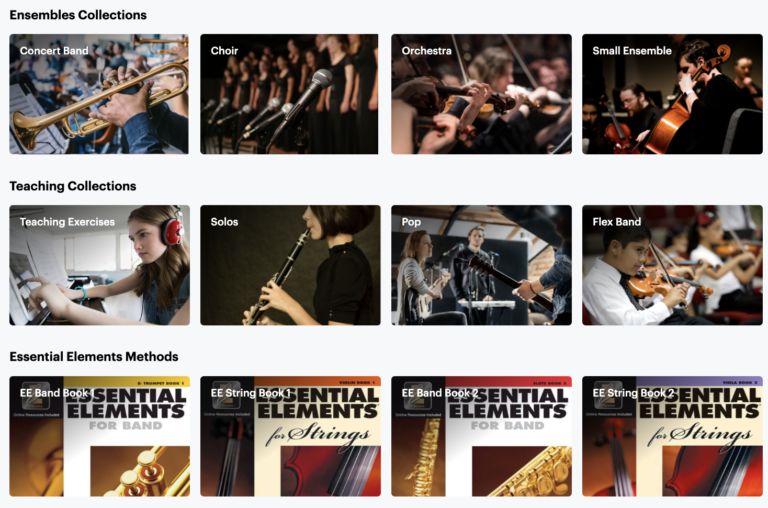 We are excited to announce that the Content Libraries in Noteflight Learn have now been upgraded to a comprehensive Music Library of over 84,000 titles! This includes the entire Hal Leonard Flex-Band catalog, hundreds of band, choir, and orchestra works, over 41,000 instrumental solos, and over 25,000 pop piano/vocal/guitar songs!
All titles can be used for performance assessment with SoundCheck™, powered by MatchMySound™, performed and transposed in our interactive viewer, as well as adapted for composition and arranging assignments. All Noteflight Learn scores, including SoundCheck scores, the Noteflight Learn Content Library, and the Essential Elements Method Book exercises, can also be assigned with Google Classroom and other learning management systems.
Interactive Viewer Makes Playing Easy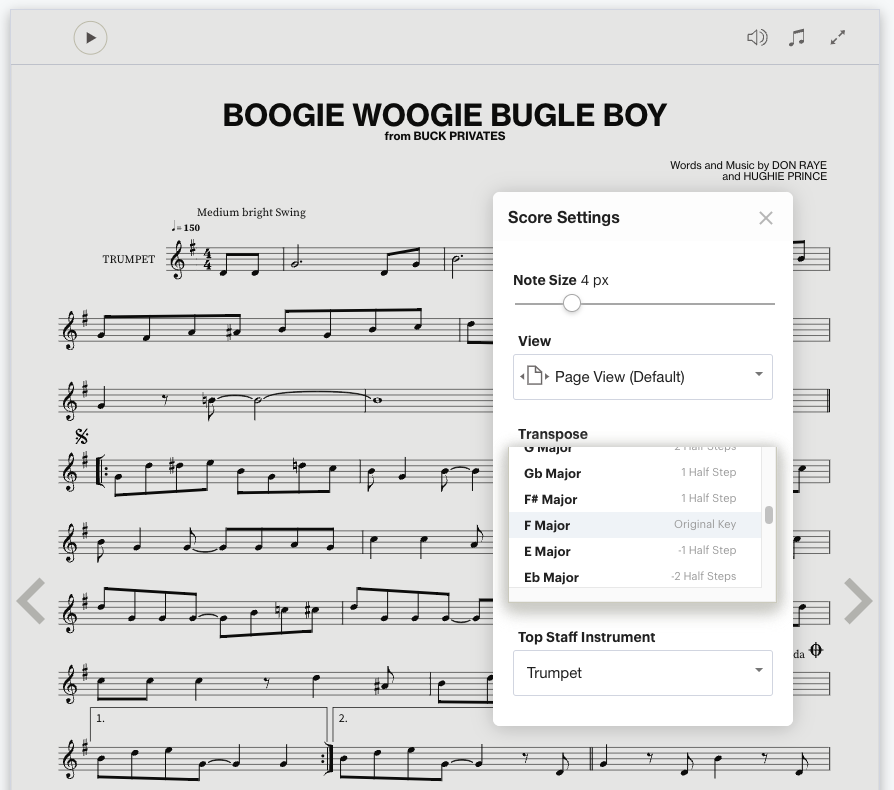 Our Interactive Viewer allows students to easily play along with all titles, plus transpose and change the top line instrument. Over 25,000 pop songs can be used for any instrument in any key with piano accompaniment!
The viewer also allows you to adjust the playback speed, mute and hide staves, and adjust note size. To edit files in the notation editor, simply "Create Editable Copy" to save a notation file in your account.
SoundCheck™ Performance Assessment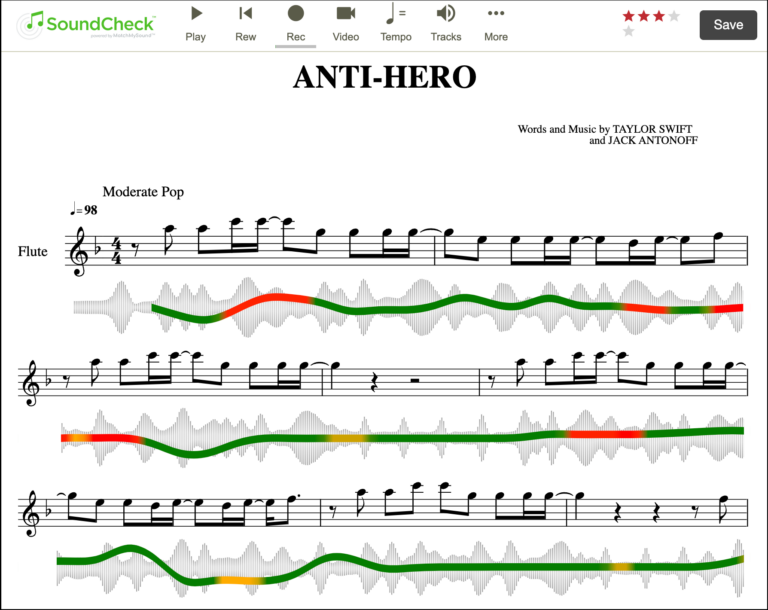 SoundCheck™, powered by MatchMySound™, provides instant ratings and feedback for pitch, rhythm, and intonation, and is available for use with any Noteflight score you create or edit, the entire Noteflight Learn Content Library, and the Essential Elements Method Book exercises.
SoundCheck can be used in Unlocked or Locked mode, allowing teachers to unlock controls so students can change the settings and tempo to help them learn, or lock assignments for assessment.
Any Noteflight file can be used with SoundCheck! Adapt our 85,000 titles, create your own, or import MusicXML.
Noteflight Learn Access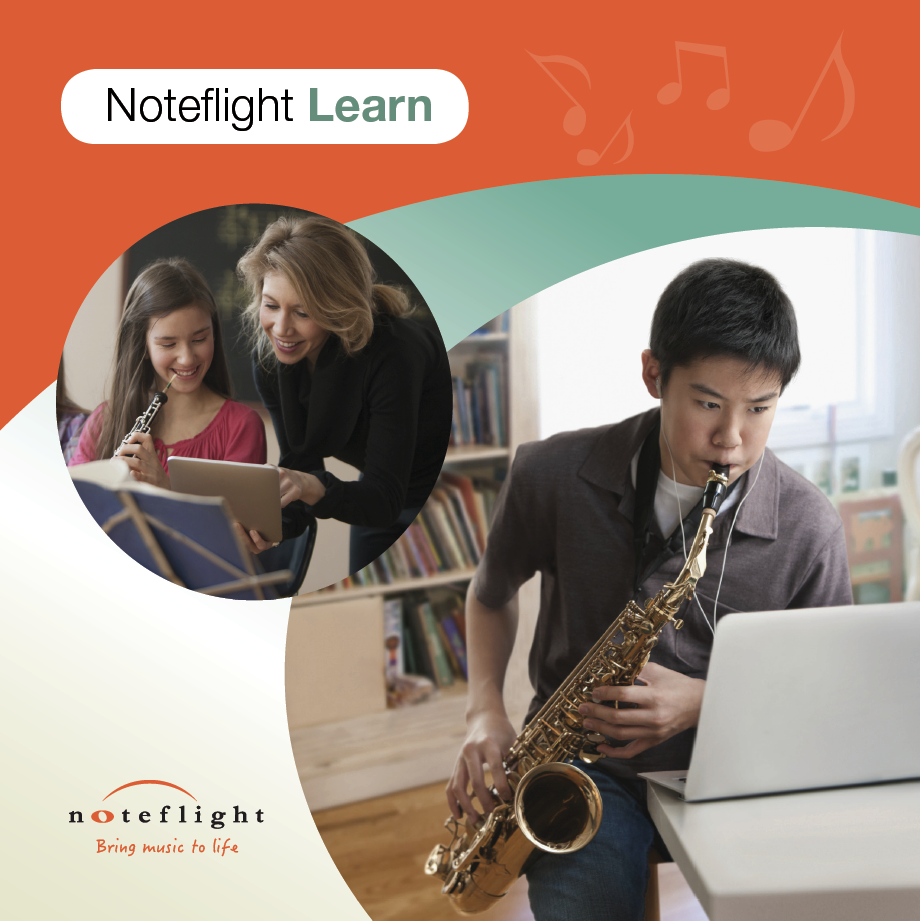 Noteflight Learn provides a private, COPPA-compliant website, designed specifically for music education. All teachers and students have Noteflight Premium composition features, plus the ability to organize classes, easily create assignments, and get performance feedback with SoundCheck.
Noteflight Learn also directly integrates with Google Classroom as well as other popular Learning Management Systems via the LTI standard.
Quoting Noteflight Learn with SoundCheck
Noteflight Learn with SoundCheck and over 84,000 titles is sold as an annual subscription for $129 for 10 users, plus $6 per additional user. Additional plan options are available for composition only.
Teachers can quote or purchase Noteflight Learn with SoundCheck right away using our online form.
Quote or Buy Noteflight Learn & SoundCheck
If you are not using Noteflight Learn already, please sign up for a 60-day trial to get started!