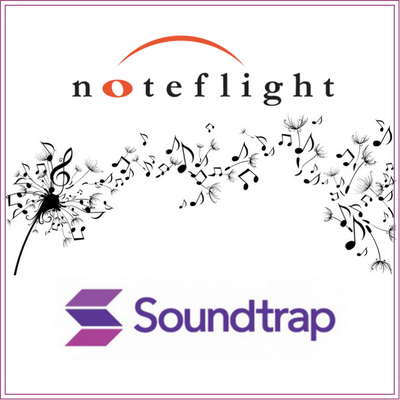 Noteflight and Soundtrap, the leaders in online collaborative music software, now seamlessly integrate for easy MIDI file export between programs. This makes music creation with both notation and a digital audio workstation (DAW) easier than ever! Best of all, both Noteflight and Soundtrap are web-based and work on any device, so your music is always easily accessible and shareable.
Not a customer yet? Sign up for free at Noteflight.com and Soundtrap.com.
Endless Possibilities
Composers, producers, teachers, and students are constantly exporting and transferring MIDI files between notation and DAW softwares for creative projects. The direct integration between Noteflight and Soundtrap makes this creative process easy and efficient.
Here are just a few examples of what you can do:
See your Soundtrap song as Noteflight notation so live players can perform your work.
Remix the audio of your Noteflight score with Soundtrap instruments.
Export MIDI drum parts from Soundtrap into Noteflight and copy to an existing score.
Add Soundtrap loops to the playback of a Noteflight melody.
Learn and reinforce music notation by seeing Soundtrap files in Noteflight notation.
Use Soundtrap to collaborate with players to record and mix your Noteflight score.
You're Only an Export Away
Take any score in Noteflight or song in Soundtrap (Premium or EDU), then use the export option to open your score in the other program.
In Noteflight:


In Soundtrap:


If you are already logged into Soundtrap/Noteflight your file opens instantly. Otherwise you will be prompted to sign in or create a new account, which only takes a few seconds.
Making the Most of MIDI
Using MIDI is an easy and fun way of transferring files, and here are two tips for making the most out of this:
1. Instrument Selection. MIDI will transfer pitch, durations, and instrument names. There are many different instrument and sound options in both programs, so depending on a number of factors you may need to tweak the instrument or sound you want. This is actually one of the main benefits of the integration, allowing you to play with different sounds and effects!
2. Duration Affects Notation. A Noteflight score is naturally quantized into note durations, such as eighth, quarter, half, or whole notes. When creating files in Soundtrap, your MIDI can start and stop anywhere on the piano roll, which allows for great flexibility in scoring. However, when exporting from Soundtrap to Noteflight you will see the best results if you first ensure that your MIDI starts and stops with the durations you want. Otherwise, you may see notation with multiple sixteenth rests and dotted notes. Here is an example:
1. This MIDI part was played into Soundtrap with a keyboard, and the timing and duration are just a little off:


Resulting in the file looking like this in Noteflight:

2. Here is a Soundtrap track that has been adjusted to line up with the grid: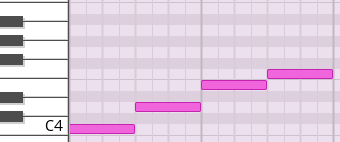 Which results in a nice, clean notation part:

We hope you enjoy collaborating and making music with both Noteflight and Soundtrap!