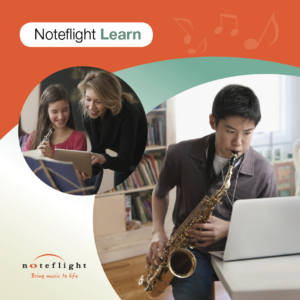 SOMERVILLE, MA, October 25th, 2017 — Cincinnati Public Schools has adopted Noteflight Learn for music students at the elementary (grades 5 and 6), middle school and high school level for the 2017-18 school year. This allows all music students to create, record, print and share music in and out of their music classes. Dr. Isidore Rudnick, CPS Fine Arts Curriculum Manager, says "We understand that exploring and creating music is essential to a well-rounded, standards-based music education and Noteflight Learn is the ideal platform for our teachers and students. The ability to use Noteflight on any device and easily share assignments and musical scores is a game changer for us".
CPS began with a pilot program for teachers and a professional development session provided by the Noteflight team. After the 1-year pilot the entire district had adopted Noteflight Learn and began the school year with another in-person professional develop session provided by Noteflight. This partnership, along with all Noteflight Learn customers, includes ongoing support and training.
If you are interested in adopting or piloting Noteflight Learn in your school or district, please contact us at info@noteflight.com.
Tags: featured