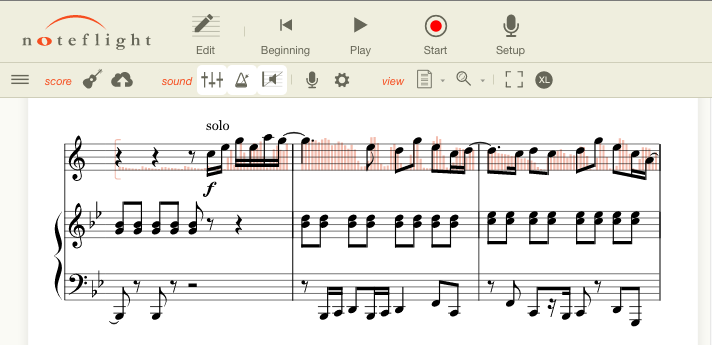 Somerville, MA, June 10, 2016 (Newswire.com) – Noteflight, the world's first and best online music notation software, has announced the first ever online audio recording feature for music notation software. This allows the over two million Noteflight community members to record personal performances of the music that they create on Noteflight's innovative web-based application.
Explore all details at notes.noteflight.com.
This revolutionary new feature allows Noteflight Premium users to record live audio of one or more musical parts within a notated score, in synchronization with other existing parts. They can then easily share their musical composition and audio recording as a single document, with other individuals or with the Noteflight community.
Educators and students will benefit from the ability to create and share recordings of notated music using Noteflight Learn. Teachers can present a musical score with a model recording, and students can record their parts for feedback and assessment.
"Web audio technology is advancing rapidly and we are excited to be on the cutting edge of what is possible today", said Joe Berkovitz, President of Noteflight, "Noteflight will continue to innovate in order to inspire more musicians to create and share music on the web, and to make that experience richer and richer."
Noteflight looks forward to continuing to provide its users with more new ways to harness the power of notation and audio together, in a single unified application.
---
About Noteflight
Founded in 2008 and headquartered in Somerville, MA, Noteflight, LLC is dedicated to reinventing the way people create, share and use written music. Noteflight allows users to edit, display, playback and share music notation in a web browser, on any device. Noteflight has an active online community of over 2,000,000 music enthusiasts. Its website hosts millions of user-created musical scores, both public and private. Noteflight addresses both individual music-makers and music educators at all levels with its family of products, available by online subscription. Noteflight also licenses its technology to industry leaders to manage scalable cloud-based repositories of sheet music that can be delivered to any device. For more information visit www.noteflight.com.
About Hal Leonard Corporation
Founded in 1947, Hal Leonard Corporation is the world's largest music print publisher and digital content provider, producing educational publications, songbooks, sheet music, reference books, DVDs, magazines, eBooks, digital sheet music, apps and more. The company is also a major distributor of music technology products, selling and marketing the most popular software, hard goods and accessories available today, to musicians and recording enthusiasts around the world. In its more than 200,000 available publications and products, Hal Leonard represents many of the world's best known and most respected publishers, artists, songwriters, arrangers and manufacturers. The company is headquartered in Milwaukee, WI and also has domestic offices in Winona, MN; New Jersey; and Boston, and offices abroad in Australia, Belgium, China, Germany, Holland, Italy, Switzerland and the United Kingdom. For more information, visit www.halleonard.com.
Media Contact
Ben Turcotte, Digital Marketing Manager
ben@noteflight.com
---
For official press release, please click here.