Nothing is more rewarding for us at Noteflight than hearing about how our software has helped people learn and pursue careers in music. In this feature, we hear from Jorrell Bonner, a long time Noteflight member who used Noteflight to pursue his passion for music that has been with him from the start and followed him all the way to one of the music capitols in America, Nashville, TN. 
Jorrell shared his story with us and we are extremely excited to share it with you. Enjoy and happy composing!
Jorrell Bonner's Story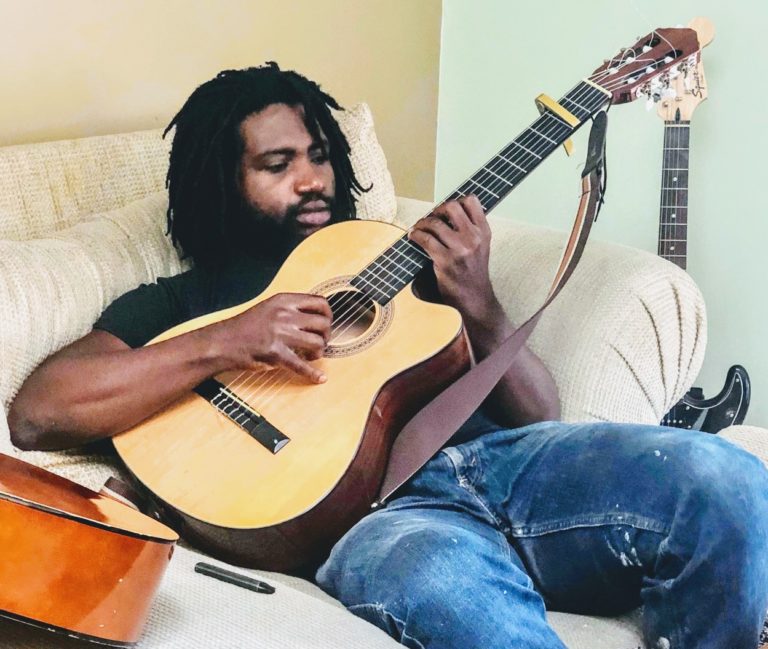 A Lifelong Relationship with Music
My relationship with music started as a toddler when I would obsessively sing along to Disney cartoon musicals like the "Lion King" and "Aladdin." I remember having the soundtracks on cassette tape and "practicing" until I got every lyric and vocal inflection just right. At age six, I joined my church's Children's Choir, went on to the Youth Choir in my early teens, learned a few band instruments in Junior High, and directed my high school's Gospel Choir. Though I loved the "musics" internalized during these formative years, I was frustrated at my own lack of understanding and inability to write music of the same caliber. My hunger to learn was intensified upon my first hearing of Johann Pachelbel's "Canon in D" in my junior year of high school. I had no idea what I was listening to, but I was floored. I had to figure out how to recreate the winding melodies I heard in that piece. Luckily, during my freshman year at Amherst College, I was able to take courses that focused on the inner workings of Classical and Baroque composition. My introductory theory classes required me to write small pieces – melodies, canons, chord progressions, etc. I took these assignments far too seriously and would get lost in writing them for hours to the detriment of my other studies. I realize now that these hours spent were necessary in order to find and refine my own musical voice.
Musical Style 
Honestly, I think of my musical style as just modified counterpoint exercises. My ultimate goal is to create a new sound by mixing Baroque and Renaissance voice-leading techniques with a more modern, blues-inflected melodic/harmonic language, and then housing this synthesis in today's popular music forms. This idea came from years of humming along to Vivaldi Concertos and Bach Preludes. I always tried to push and pull their melodies in a different idiomatic direction. They wouldn't budge, so I vowed to make my own. I also caught glimpses of what could be possible while singing in the Amherst College, Zumbyes. In the A cappella group, we often took pop hits and arranged them using traditional and modern choral techniques. Serving as the Business Manager of the group in my senior year, creating arrangements and singing solos also gave me confidence in my own voice and musical taste. However, it wasn't until studying abroad in Paris, when I stumbled upon Johann Fux's 1725 treatise on counterpoint, "Gradus ad Parnassum" in a bookstore, that I got the raw material needed to experiment with my own take on the intersection of melody, harmony, and composition. Set up like a Greek dialogue, a kind of play with a "master" and a "student" as the only characters, the book not only equipped me with compositional tools, but it also inspired me spiritually. Near the beginning, when the master asks if the student is really ready to commit his life to music, the student responds:
"Even before I could reason, I was overcome by the force of this strange enthusiasm and I turned all my thoughts and feelings to music. And now the burning desire to understand it possesses me drives me almost against my will, and day and night lovely melodies seem to sound around me. Therefore, I think I no longer have reason to doubt my inclination. Nor do the difficulties of the work discourage me, and I hope that with the help of good health I shall be able to master it. I once heard a wise man say: Study is pleasure than a task."
Though I don't have any tattoos, if I were to get one, it'd probably be an abbreviated version of the above quote. I refer back to it whenever the road to my musical ideal gets rough and discouraging. (So, like, all the time.)
Music's Impact and Noteflight's Help
Pursuing music has changed me tremendously and for the better. My hope is that I can return the favor. Immediately after college, I jumped straight into the "young professional" world, where I'd get my bi-weekly haircut, then peruse strip malls looking for the perfect business casual pair of khakis. After about five years of the cycle, I remembered the Fux quote and realized that the music I wanted to create required me to return to school full-time and obtain a Post-Baccalaureate degree in Music Composition. While attending the University of Central Arkansas (UCA) and debating whether a chord was a "flat 6," or a "German augmented sixth," or a "tritone substitution," I absent-mindedly twisted and braided my ever-growing hair until it became dreadlocks. Needless to say, my wardrobe was equally humbled as I took odd jobs to make ends meet. I couldn't wear slacks and a tie as I worked as a tree trimmer in the San Antonio summer heat, and I wouldn't advise wearing dress shoes during a 10-hour shift in a factory making park benches and school lunch tables. But the rewards for a change in apparel have been manifold. I have shadowed working composers, interned for grammy-winning songwriters, jammed with world-renowned fingerstyle guitarists, and I have been the executive assistant for record label executives. Currently, I am refining my own songwriting skills with co-writes and various performances here in Nashville, TN. I am still walking the path and Noteflight has been with me every step of the way.
Indeed, Noteflight has made my burgeoning music career actually viable. After graduation, I needed a robust, yet affordable software to house my compositions. Noteflight was the answer. For the past 8 years, I have used the program daily. It has allowed me to present my music to singers, songwriters, instrumentalists, conductors, students, professors, and filmmakers. I have woken up in the middle of the night and jotted down ideas in the program that have turned into award-winning songs, scores for short-films, and pieces for my Senior Composition Recital at UCA. I've been continually blown away at the constant improvement of the program, its variety, the creativity of features, and low price. For the cost of a single Chipotle Burrito Bowl per month, I can create and edit as many scores as I want, print or send them out, and even sell them on Noteflight's Marketplace. In many ways, I wouldn't be the musician I am today without it.
Buy Jorrell's Music — available on Noteflight Marketplace!
Thanks to Noteflight, I was able to work with spoken word artist, D.S. Lowe, and create a piano theme and variations to go with her poem, "No More Apologies". D.S. performed the piece with pianist, Joseph Duong in 2016 at the Conway Composer's Guild's Fall Concert. Check it out below!
No More Apologies: Poem and Passacaglia
Thanks to Noteflight, I was able to counterpoint a riff on the guitar I was playing. This little melody turned into the song "In the Late Summer Day" which won an award for "Best Folk Song" at the Alchemy Songwriting competition. Check it out below!
Tags: Digital Sheet Music, jorrell bonner, music composition, musician, Noteflight, noteflight marketplace