Noteflight Learn offers direct integration with Google Classroom. If you are a current Noteflight Learn user and wish to switch to a Google Classroom integration, please contact support@noteflight.com and we will assist you with this transition.
Site Setup Instructions
1. Purchase a Noteflight Learn subscription and select the "Integrate with your learning management system" option:

2. Log into Noteflight with Google using your Google Classroom email, then select add site in the upper left menu or go to: https://www.noteflight.com/site/admin#/newSite
Choose Google Classroom as the integration option: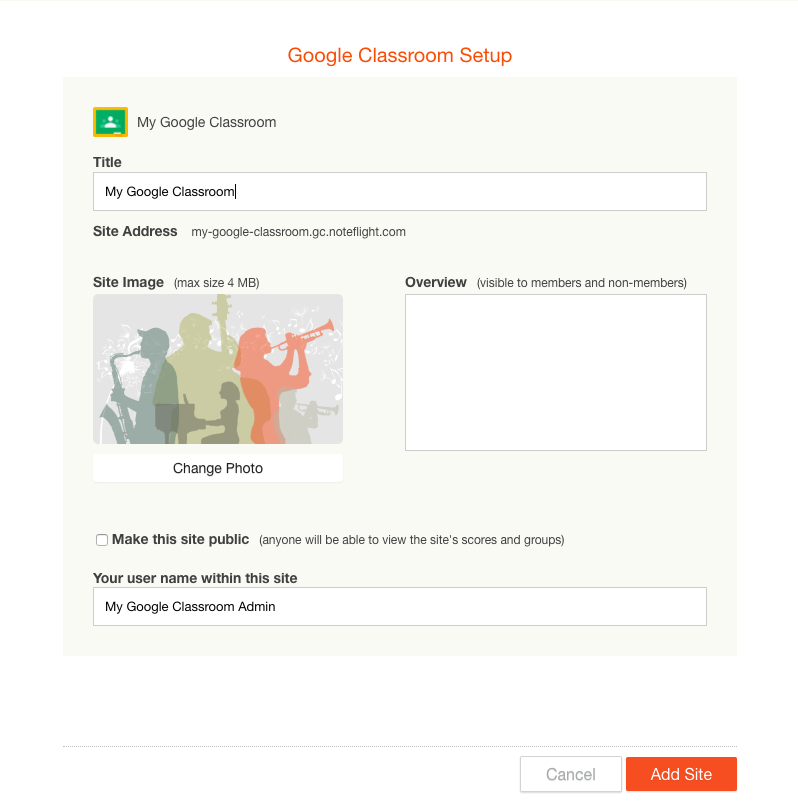 3. Choose the title of your Noteflight Learn site and supply a description and image if you like. This creates a brand new site with its own URL ending in ".gc.noteflight.com". If your site web address does not end in ".gc.noteflight.com", please contact support before proceeding.
If you choose to "make this site public", it means that when you share a score with everyone  people outside the site will be able to see that score if they have the exact score URL, similar to an "unlisted" video on Youtube. This is useful for students to share a link to a score with parents.

4. Select "Manage Site" in the header, then select "Members" on the left. Use the "Manage Classes" button to select which Google Classroom classes you would like to sync. Each class that you sync will be created as a Group inside of Noteflight Learn and all class members will have access to your site. You can also add or remove classes at any time using the same "Manage Classes" option.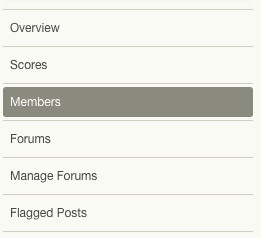 5.

Use the "Invite Teachers" option to invite other teachers to your site and let them sync their classes. Once a teacher is invited, they can log into your site and use step 4 above to manage their own classes.
Google Login

All users will access your Noteflight Learn site using their Google Classroom email address and password. Be sure to have students bookmark your site URL (schoolname.gc.noteflight.com), and you can post this link as an announcement in your class stream.
Creating Assignments
You can create assignments from either your Google Classroom stream or from your Noteflight Learn account. In Google Classroom, you can post the score URL as a link in any assignment. Be sure to set the score permissions first, and you can use Activity Templates for assignments requiring individual student copies.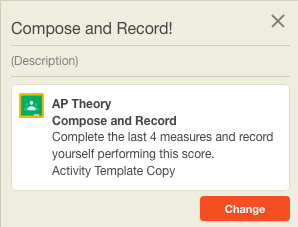 In Noteflight, you may create an assignment from any score using the "Create Google Classroom Assignment" button in Score Details. Once a Noteflight score is used as an assignment, all other sharing options are disabled to prevent duplication or confusion of assignment scores. As with all scores in Noteflight, you can "Save a Copy" in the score menu to create unlimited copies for other uses.
Assignments created in Noteflight automatically display in the Google Classroom stream. When students launch the assignment they can turn in or mark as done directly from the Noteflight score.
For support with Google Classroom setup, please email support@noteflight.com.