We are excited to launch our largest and most open contest ever! Arrange any public domain song for any instrumentation and at any length. There will be six winners and we have an amazing selection of prize packages thanks to our generous sponsors. Read all the rules below and submit your arrangement(s) to the contest!
Contest Rules
Eligibility: Any Noteflight member can enter the contest. You can always take advantage of our Noteflight Premium free trial if you would like.
Public Domain Content: You can use any public domain song, and we have compiled a list of 100+ song options to give you some ideas. If you choose to arrange a song that is not on the provided list, you are solely responsible for verifying the ownership of your song choice.
View The List Of 100+ Public Domain Song Options
Audio Recording: Audio recording is not required but composers may sync their arrangement with any performance using Noteflight Premium's media sync feature.
Due Date: Your arrangements must be submitted by Saturday, June 30, 2018 at 11:59 PM Pacific Time. Winners will be announced by July 31, 2018.
Judging: Six (6) winners will be chosen by a committee consisting of professional composers and musicians from Noteflight.
Prizes: Prize packages are listed below.
Ownership: The arranger retains all copyright and rights ownership to their arranged work. However, by submitting to this competition, the arranger agrees to allow Noteflight to promote the piece as part of this contest.
Prize Packages
---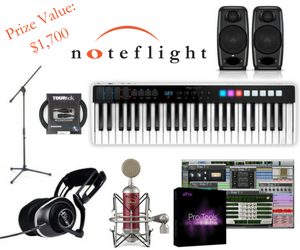 Grand Prize:
---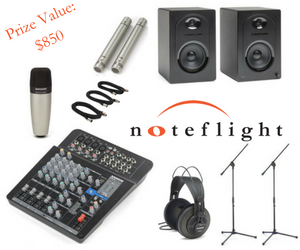 Second Prize:
---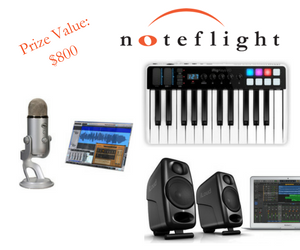 Third Prize:
---
Fourth Prize:
---
Fifth Prize:
---
Sixth Prize:
---
Submission Rules
Please use the submission form below to submit your Noteflight score URL and other required information. Before submitting your entry, please ensure that your Noteflight Score Sharing Options are set to "Anyone with a link can view" in the Connect Panel. This is needed so the judges can view your score.