We sponsored this year's National Symposium and Seminario brought to you by El Sistema USA! The event kicked off on 2/14/21 with a virtual performance from Noteflight of "What We Will Be" composed by Noteflight member Danielle Williams. We first met Danielle when she won our Call For Compositions Contest in 2020 in partnership with El Sistema USA and we couldn't be happier to see her work featured.
We were able to have a chat with Danielle about her experience writing the piece, winning the contest, and seeing it performed for thousands to hear.
You can listen to and purchase What We Will Be by Danielle Williams on Noteflight Marketplace!
Continue reading to learn more about Danielle Williams and to watch the pre-recorded performance of her piece "What We Will Be." Be sure to also visit Danielle's website today!
Q. Tell us a little bit about yourself and your experience with music.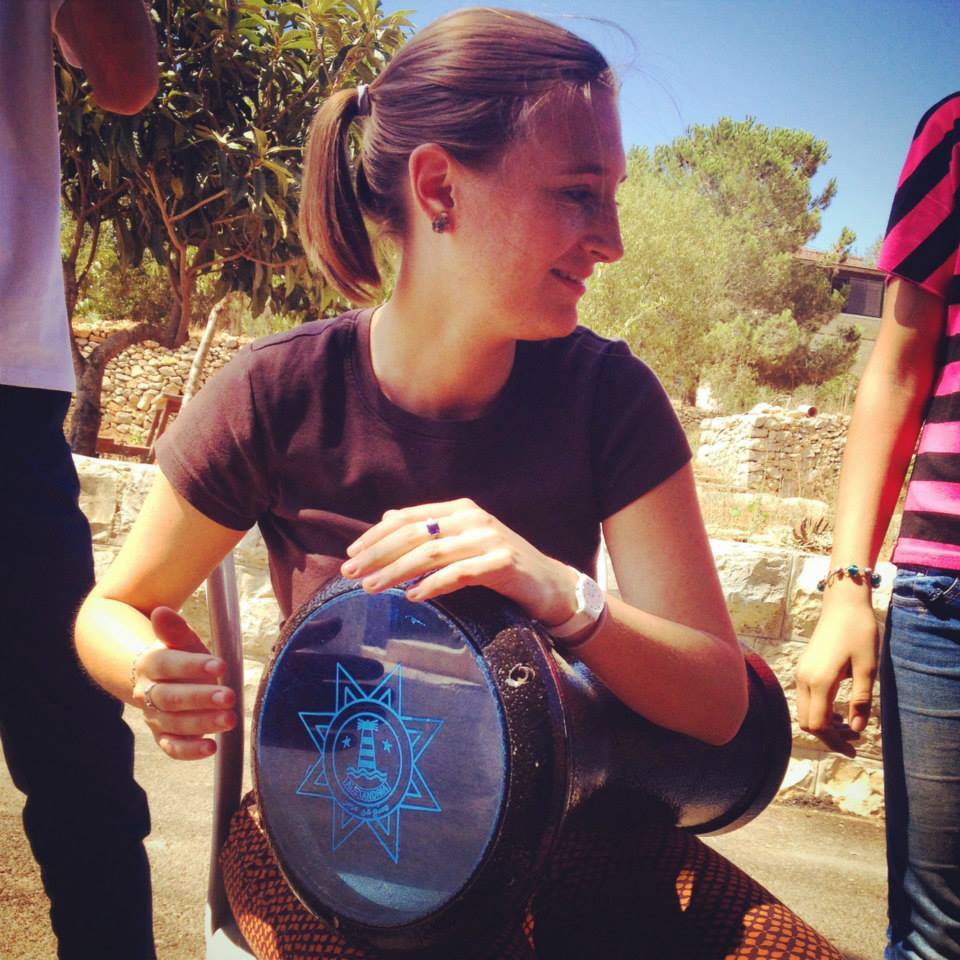 A. I've come to realize the art I've created isn't just because of who I am, but because of where I've been. Hailing from Georgia and Tennessee, I've always been closely tied to my Appalachian roots, finding myself naturally drawn to create songs with bluegrass stylistic influence. As I travel the globe, however, my experiences have shaped my music, inspired new projects, and fueled exciting cross-cultural collaborations. These adventures, along with my passion to use music as a tool for social change has led me to define my role in the world as a Musician for Peace. Since living in Tanzania, Brazil, and Palestine, I have been fortunate to have a great depth added to my classical background. Nowadays, I find myself playing much more Brazilian Bossa or Arabic music. I have taught, conducted, and performed in Ghana, Haiti, Nicaragua, South Africa, Canada, England, and Brazil, while my compositions have been performed in the U.S., France, Tanzania, and Tunisia.
I received my Master's Degree in Education at the Harvard Graduate School of Education "Arts in Education" program in Boston, USA. From 2013-2015, I worked as the first Boston Philharmonic Fellow with Benjamin Zander's Orchestra in Boston, Massachusetts. There, I established and directed the Boston Philharmonic Orchestra's Crescendo! Education and Community Engagement Program in twelve Boston area schools, developing the music education curriculum and conducting the BPO's Classroom Concert chamber orchestras. Before this work with the Boston Philharmonic, I served as the Piano Fellow with the Umoja Arts School in Arusha, Tanzania from 2011-2013. In Arusha, I had the joy to teach private lessons in piano, flute, and voice, while also conducting youth ensembles. During my time in Tanzania, I also worked as a professor of composition and arranging at Makumira University in Usa River.
I received my Bachelors in Music degree in Composition and Theory from the Blair School of Music at Vanderbilt University in 2011 and studied orchestral conducting at New England Conservatory with Charles Peltz from 2013-2014. I received a Masters of Education from the Harvard Graduate School of Education "Arts in Education" program in 2016.
Q. Wow, such an impressive background! Tell us a little bit more about how you use music as a tool for social change and how that helped inspire your piece, "What We Will Be". 
A. I have been using music as a tool for social change and relationship building since I first traveled to Nicaragua with my flute at the age of 15. Following college, my first job was as a piano and flute teacher in Tanzania. There, working in the International School and simultaneously in the local elementary schools forced me to recognize the significant disparity in student opportunities because of social-economic barriers. After two years in Tanzania, I was hired by the Boston Philharmonic Orchestra to found and direct their new Education and Community Engagement Initiatives. From 2016-18 I taught music with the Al Kamandjati Music School in Palestine, which is a program dedicated to bringing music education to Palestinian students across the occupied territories, including the many refugee camps. I now serve as Director of Education for the Baltimore Symphony OrchKids program, where we provide 2,000 students in low-income areas with music education at no cost. Using music as a tool for social change, student voice, and community-advocacy is at the core of my mission as an artist.
Q. You wrote your featured piece using Noteflight. Can you tell us why you choose to use Noteflight as your notation software?

A. I was introduced to Noteflight through the El Sistema USA Composition Competition in 2020. I find that Noteflight is a great resource to easily share and sell my pieces, as well as find many original pieces and arrangements by other composers. It's great to have this as another resource for a diverse repertoire. Being able to search for instrumentation and level of pieces for students is the most helpful resource as a teaching artist. Pieces on Noteflight are also often very affordable and offer a wide range of styles which is a great resource for us educators. So many more people know about my composition now thanks to Noteflight! It has allowed "What We Will Be" to be shared across the world!
Q. What does sharing your music on a grand scale mean to you?
A. Working in this challenging period of the pandemic has certainly forced us as artists to rethink the ways we communicate, collaborate, and share our works. With this has come the opportunity to reach audiences and other artists around the world. Being able to see my composition, and so many others, performed by students across the country and world breathes a new sense of joy and optimism into our field of artistry. Over the past year, there have been many moments when it feels like students' education and access to the arts has been diminished in many ways. Yet, we can also step back and recognize the myriad ways in which music students and their teachers have been able to access new opportunities and collaborations that we never would have dreamed of before this last year.
The moment a child holds their instrument for the first time, the possibilities of where music will take them are endless. As music educators, we have the chance to see the excitement, challenges, and joy children experience as they grow both as musicians and people. In the philosophy of El Sistema, these musical journeys empower children and help to develop their character, behavior, and leadership abilities.
"What We Will Be" is meant to capture this spirit by empowering young musicians to be self-driven leaders and artists through music-making. Prepared with the goal of performance without a conductor, students are challenged to collaborate as teammates to bring this piece to life. It begins as if at the start of a concert when the orchestra members are all chatting, fiddling on their instruments, and preparing for the tuning note. This tuning 'A' can be played by a flute, oboe, or concertmaster. Though the audience may believe the orchestra is merely tuning, the music quickly blossoms into a harmony of open 5ths, out of which a rhythmic motive appears played by the keyboard percussion. Listeners will suddenly realize that the piece has grown out of this simple yet fundamental note, just as all musical knowledge begins with of learning one's first note. The choral moments of "What We Will Be" poses a philosophical question, both to the children performing and to the audience listening — where will music take us? How will education and musical experiences shape the lives of these children? It's up to us as musicians, educators, parents, and a community to provide the nurturing love and support that inspire and shape who these children will someday be.
Q. Your piece, "What We Will Be" is being featured at this year's El Sistema USA Symposium. What does that mean to you? 
A. It's is such an honor to have my piece chosen for the El Sistema USA virtual conference. This piece has only been performed once before but in a similar spirit of bringing students together who wouldn't normally have the chance to meet and interact. ESUSA has brought this vision to the next level in dreaming up a virtual performance of "What We Will Be" which allows students from across the country and globe to perform together. Undoubtedly, the pandemic has caused many challenges and moments of frustration when we aren't able to make music in person together. I hope that my piece helped students to imagine our future world beyond the pandemic and explore the question "What will we be." Inspired by Mary Oliver's poem "A Summer Day" the lyrics in the piece ask, "tell me what we will be in this one, wild, precious life!" Indeed, the challenges, trauma, and loss in the last year have caused so many of us to reflect on the precious nature of our lives and the opportunity to make art together. I hope this piece helps to celebrate that, as well as imagine a future full of possibilities.
Q. What's next for you? What do you envision for your future in music?
A. Collaborating is a key part of my experience as an artist. Prior to COVID, I was playing in a band I co-founded last year in Baltimore, in which we play a mixture of my originally composed music, as well as songs from Brazil, Lebanon, Palestine, and Colombia. These days I typically describe myself as a musician who plays Arab and Brazilian music, combined with my own folk-style songs. Most recently, I established a new Latin Ensemble in Baltimore and we created a video to a song I composed in the style of Argentinian Zamba using the text by Argentinian poet Silvina Ocampo. I am also a passionate teaching artist, serving as Senior Education Manager for the Baltimore Symphony Orchestra's OrchKids Program. I aim to continue always learning and growing in my understanding of anti-racist teaching, as my colleagues and I strive to provide all students with equitable access to arts education.
Watch the virtual performance below!
You can purchase What We Will Be by Danielle Williams on Noteflight Marketplace!
Try Noteflight Premium for free with a 30-day trial or, if you're a teacher, try Noteflight Learn for you and your students for free for 60-days!
Tags: Composition, Contest, El Sistema USA, featured, music composition, music education, music notation, music teachers, music technology, Noteflight, noteflight learn, noteflight marketplace, self-publishing