While Noteflight Basic provides a robust set of instruments, Noteflight Premium offers even more with a full array of 85+ high-quality instruments. If you still do not have the instrument needed for your composition, you can use an instrument sound to create your own instrument by modifying the name and transposition of one of our existing instruments. This handy solution will let you write for just about any instrument you can imagine!
Customizing An Instrument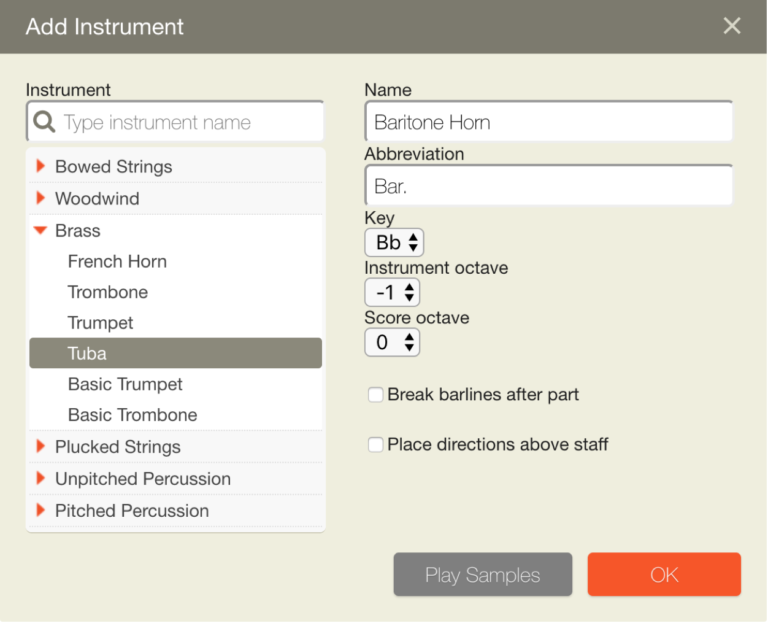 Each instrument in Noteflight is based on a given playback sound and you can edit the instrument name and transposition. The full name appears in the left margin on the first staff in the score, and the abbreviation appears next to all subsequent staves. The transposition key and octave is only for transposing instruments like the B-flat clarinet. To customize the instrument in your composition, simply select an instrument sound and edit the settings in the dialogue.
Common Instrument Customizations
Here are some examples of common uses for instrument customizations:
Voice Parts:

Noteflight Premium provides male and female sound samples with three syllable options. Select the sound sample that is closest to the voice type you are writing for then change the name to your intended part, such as soprano, alto, tenor, or bass. For a sound with more dictions, try using clarinets in place of vocal sounds, and make sure to change the instrument 'Key' to C. You'll get great blend and sharp attacks with this approach.

Instrument Family Customizations:

Noteflight Premium includes standard band and orchestral instruments, and you can customize them to include closely related instruments. For example, start with Noteflight's Trombone and change the name to Bass Trombone, or start with Bassoon to create a Contrabassoon.

Language Customizations:

Common instruments go by many names. Noteflight includes English Horn, but you can rename it Cor Anglais, or call the Piano by its German name, the Klavier. The sky's the limit!

Ukulele

: We currently offer the uke in TAB but not in staff notation. Try using our classical guitar for the sound and change the name to ukulele.

Unique-sounding Instruments:

Of course, there are instruments with very distinctive sounds, not very similar to the standard instruments in our list. Need a didgeridoo? Try our tuba with vibrato and tremolo. A little creativity can go a long way to get the effect you need!
We hope this article helps make your use of Noteflight premium's extensive instrument options even more broad and versatile. For more playback options, check out live audio recording and media sync, or even combine them all!
Watch our quick video that shows you how to compose for any instrument using Noteflight Premium: